Betfair Games X-Blackjack
I'm back again and after the Hi's and Lo's of this week we are onto my preferred game of Blackjack!
I'm sure a lot of you are familiar with the game of Blackjack and how to play it. Couldn't be simpler I hear you cry, just get as close to 21 and beat the dealer in the process. Correct. Simple. Or is it?
Betfair X games has taken this simple concept and taken it to the next level. We have more than one choice. Rather than stick or hit we can now back or lay many possibilities. Over the next few paragraphs I will try to explain the markets that are available to us within the Betfair Games interface.
The Hands: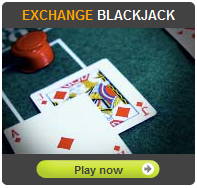 To start off we have 4 hands and the dealer's hand. This effectively gives us 5 betting opportunities. We can bet on an individuals hand (although I recommend that we don't at this stage) or the dealer's hand.
We must remember that in this format there is no house edge, it is simply as we see it and the odds displayed are the true percentage representation of the outcome (try saying that after a few pints!!)
Unique Bets:
I call them unique bets because they are something that we would not associate with Blackjack under the usual circumstances!
We have as follows available for betting:
1. One or more has 5 cards
2. All cards are unique
3. Only one has 21 points
Now this throws up many fantastic betting opportunities. I won't go into them now (can you see my hook into keeping you coming back for more!!) as after I have covered all the Betfair Games tutorials I will go into how to make money from these games!
Once the first betting round is over then the first two cards (just like at a casino) of each individual player (1 through 4) is turned over and only one card of the dealer's is shown. Again this throws up many betting opportunities depending on the value of the cards being shown. The usual progression then occurs with each hand "hitting" or "sticking" (maybe standing, depends where your from I believe!) until either the dealer or the 1 or 2 or 3 or 4 or all of the hands either tie, lose or win.
So I think you get the general idea. You basically get to be the spectator of a 4 player game of Blackjack with other opportunities available to you to bet and you also have the opportunity to back or lay.
As a quick example (all this will come later) I've just done a quick trade myself on Blackjack and this was the scenario:
I layed " 1 or more has 5 cards" @ 7.4 in the first round.
I also layed " all cards are unique" @ 6 in the first round
In the second round I backed " 1 or more has 5 cards" @ 22.8 which enabled me to secure a profit of £6.58.
The Lay bet on " all cards are unique" lost immediately (as it often does!) to secure a profit of £9.75. All the above was done with £10.00 trades.
So as you can see the whole trade took less than 2 mins and secured me £16.33 after commissions.
Don't worry if this sounds to complicated at the moment as all will be revealed over the coming months. I have some Betfair Games software that carries out these types of trades automatically or if you prefer an on-line calculator that does the maths for you!
Anyway, I will be back next week with some more explanations on the other games and an insight into one of my favourites (and most difficult to crack) X card derby racing.
Click here to start playing Betfair Exchange Blackjack
Until then,
Happy punting and good luck,
Eddie Lloyd