Betfair Games X-Card Derby Racing
As promised I'm back with the third instalment this week with which we shall delve into the exciting world of X Card Derby Racing. This is the newest edition to the games and one which I find the most exciting.
The game consists of four fictitious horses that are about to race over a grid that has 32 positions. Cards are drawn in every round and their numerical value i.e. a 2 is worth 2 spaces, a picture card is worth 10 and an ace is worth 11, is how far the horse moves along the grid. 3 cards are drawn every round and the first suit/horse to achieve 32 wins the race. We see the horses denoted by the 4 suits of playing cards.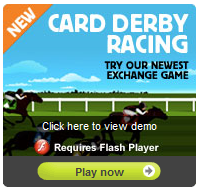 We start the game with a pre-handicap round where by all horses are priced up at 3/1. This represents a 25% chance of them winning, which at this point is true!
Once this opportunity has elapsed we now have the handicapping round. Three random cards for each horse are picked and this then alters the market. For example if 3 picture cards were drawn for the "clubs" horse then its odds in the next round will be very high because these cards are needed to move it along 10 spaces. At the other end of the spectrum, if 3 lower cards were drawn then the odds would be a lot shorter.
There are many angles in profiting from this market and the difference between this game and the others is the massive odds that can be backed and still, whilst trading, lock in some healthy profits.
Now this tutorial seems rather short and anyone interested in this game, I fully recommend playing the demo which is available on Betfair and they explain how it works with step by step instructions.
Keep an eye out for my first software review being published this weekend that has shown me consistent profits, especially with the X card derby racing, for over 18 months now.
Until then, happy punting and good luck!
Eddie Lloyd.