BetBot Pro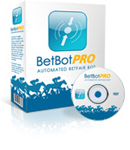 Betting is a fun past-time for anyone that's ever done it. For some it's a hobby while others use it as a supplement to their regular income. If you fall in the category of the latter, you may have been looking for a method to improve your odds and increase your income. You'll love what BetBot Pro can do for you. Shortly after you get and begin using BetBot Pro, you'll wonder how you ever got by without it.
If making a steady profit to your income is what you're hoping to do, reading this can very well be your first step towards a lifetime of financial security and happiness. You may be wondering what's so special about BetBot Pro and how we can be so sure of how much it can help you. Read on and you'll quickly see the wonderful opportunities BetBot Pro can offer.
More than just another new computer betting software program, BetBot Pro is an Automated Betfair API Software that will take care of your betting needs even when you can't be there to do it yourself. If you're a better at the track on a regular basis, you probably have had many days where you really had a lot of other things to do but didn't get around to doing them by time you got home. With BetBot Pro, this will never be a problem for you again. You place your bets and do you thing and you can leave and let BetBot Pro do the work for you.
You're not limited to just betting on the horses in the UK or the U.S. You have a wide variety of betting choices including UK and AU Greyhound racing, US, UK and AUS horse racing or whatever you happen to be in the mood for that particular day. Your choices of betting selections on each race are also offered in a large variety. You can pick single or multiple greyhound or horse races as well as choosing winners from any number of races. No longer will betting be a hassle for you because BetBot Pro software does the work for you. All you have to do is place your bets, a few minute process, and go spend time with your family, go golfing or whatever tickles your fancy. Your software will do the work for you.
BetBot Pro has many special features that make it a special addition to your betting hobby-a very helpful addition. You can place bets up to 5-10 minutes before the start of the race and the software has a filter that will only allow bets up to your limits. They also have safety features that won't allow bets to go beyond what you've set as your "safety" limits. You'll find it so simple to use, you'll start to believe it was designed just for you. If you have any questions, their team of qualified staff is available to help you or answer any questions you may have.