BetGrail - BetMarket Trader
BetMarket Trader is a comprehensive software tool for Betfair betting, bet trading, and arbitraging. BetMarket Trader was developed to make your betting life on Betfair easy and successful.
While it has all the standard Betfair features, BetMarket Trader has many unique functions. By default it has a look similar to that of the Betfair interface; however you will find it possible to customize its interface to make it look exactly as you like.
To help you predict odds movement we have included many useful indicators. Some of them are WoM, matched volume for each runner, last trade for each runner, and trade moving averages.
Traders will find many handy features such as manual trading, automated trading, preset prices, and features for In-Play betting. The "In-Play Resubmitting" function makes it possible to automatically resubmit all canceled bets when the Betfair market goes In-Play. Now you can place your bets even if the market is suspended! BetMarket Trader is capable of refreshing as fast as one time every 0.05 seconds.
BetMarket Trader Features
- Automatic and Manual trading
- "Stop Loss" function
- Preset Lay and Back prices
- Ability to resubmit canceled bets during In-Play and bet when the market is suspended
- Smart bets
- Trading using price offsets
- Betting 'On the edge'
- Ability to place trading bets consequently or all in one time
- Lay All at preset price
- Optional bets confirmation
- Bets placing, canceling and changing
- Market Indicators: WoM, Matched Volume, Matched Volume Percentage, Last Trade, Last Trade Type (Back or Lay),
Trade Moving Averages, Trades Ratio, Current Trade Profit, Possible Profit if the bet will be matched, ability to
customize indicators
- Ability to place Lay bets as stake or as liability
- Shortcuts for all functions
- Ability to customize your own application color theme
- All six Betfair prices are available for betting
- Refresh interval up to 0.05 seconds
- Automatic refresh rate changing for In-Play
- Uses Microsoft .Net Framework 2.0.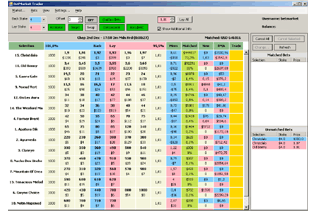 You can try our free evaluation version for 15 days. To buy BetMarket Trader go to the order page. Our software comes with 1 year of free support.
System Requirements
- Microsoft .Net Framework 2.0 installed (can be downloaded here)
- 128 Kbit/sec Internet connection
- 1GHz Processor
- 256 Mb of RAM
- 8 Mb of free disk space
- Screen resolution of 1024×768 or higher.
We are making an unrivalled offer to our customers – during this limited time period you can get a 25% discount for all products! Also, all clients who have a license for our software receive a 50% discount for all future updated versions.
All products come with 1 year of free support. We are continuously improving our solutions and you will find many new useful features in future releases.