Bf Bot Manager
Bf Bot Manager, official Betfair API solution, is a sports bot system designed for Betfair that uses Betfair Free API. Bf Bot Manager allows you to load the bot of your choice into its management structure and start betting. You can load bot that will bet or trade by pre defined rules, or you can load Ladder Control and start betting by yourself. Software supports placing bets on both exchange, United Kingdom and Australian.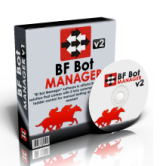 Available bots
"Back/Lay Favorite Bot" comes with Bf Bot Manager V1, it will earn you cash every day by betting on favorite or on your own selections, and using loss pot recovery system
"Back/Lay Multiple Favorites Bot" comes with Bf Bot Manager V2 and is our most powerful bot, it is able to bet on multiple favorites at same market, recover loss for each favorite, bet on user bets and much more
"Ladder/Grid Control" is ideal for manual trading or betting on any Betfair live events, like horse races, soccer matches, tennis, snooker, darts…
"Horse Races Trader Bot" will take only 1 minute of your time to start bot each day in the morning, and it will trade on UK horse races whole day!
"Dutching Bot" will automatically place bets at your target overround on all markets or you can use dutching calculator and place bets with 1 click!
"Soccer Bot - Draw Betting" is add-on to Bf Bot Manager and it trades on soccer matches
*Any of our bots can be modified by your request, or we can create new custom bot for you if needed. We can develop a custom bot, new software, web site or anything else that is related to software development.
Free Trial
You can request a free 3 day trial for the bots, which run the same as full version, but with a time limited license key. Bf Bot Manager accesses Betfair via their free API, so you will need a funded Betfair account in order to use the bot.
Bf Bot Manager is available for a one off fee, so unlike some betting bots, there are no monthly subscription fees to pay, plus all updates are included free for life