BetAngel | The Complete Review Part 1 | Overview and Resources
Bet Angel is one of the longest established trading software tools on the market if not the longest established. This fact alone should be enough to merit a closer look by any trader aspiring to improve their profitability. So in this review I will be delving deeper to see what it can deliver.
It is worth noting that a free version Bet Angel basic, is available. Inevitably the free tool is really only a device for placing trades and lacks many of the tools available in the payware version, Bet Angel Professional.
In fact this is one of several 'flavours' of the software. As Bet Angel sits between you and the Betfair interface, it also caters for Betdaq users with its own version while football traders have Soccer Mystic which is geared particularly for their needs. I will look at Soccer Mystic in later review and concentrate now on Betfair Professional.
One advantage of being so well established is that a whole user community has developed, and new users would be well advised to check out the Bet Angel forum, where you will find plenty of information about how to get the best out of the software. Additional resources include trading advice on the Bet Angel YouTube channel, and a 133 page user manual http://www.betangel.com/support/Bet-Angel-QRG.pdf.
You would have thought that provision of a manual would be standard for all trading software but sadly this is not always the case. The manual is well written and is recommended reading for all new users.
In order to use Bet Angel you have to first register and full details of this and the straightforward installation process are clearly laid out in the manual.
Once you enter Bet Angel via your Betfair user name and password, you will see the main interface (below) containing links to all the functions you will need to explore. Most useful is containing news related to your day's trading (for example, at the time of writing, there were reminders of the upcoming Australian Open).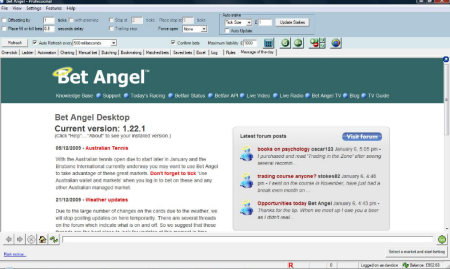 You will firstly want to navigate to the market page. It's all fairly intuitive and the design templates are excellent. There is no link to "Today's Football In-Play" as in Betfair; this is a minor detail as once you know your way around it is easy to find the current in-play markets. I particularly like the sound alerts when a market goes in-play or is suspended though the alert has a rather disconcerting habit of sounding whenever you re-visit a previously open market. This might be correctable but I could not find out how to. Other alerts are available such as advance warnings prior to an event starting.
One other quibble is that the amounts are not displayed net of commission, so you have to remember this when looking at matched bets.
The first screen contains "One Click Betting" which is similar to the Betfair interface. This contains all the information you would expect, including links to the standard betfair charts as well and weight of money figures which are not included in the standard Betfair interface.
You will also find some key buttons not available to Betfair users. The greening button is worth highlighting. Pressing this button automatically calculates the stake and odds required to 'green out' in any market. This really does allow you to more make profits at minimum risk, though as usual the amount of profit you make depends upon the skill of the user to assess the market and in the hands of less experienced punter it could easily lead to losses if it is over relied upon.
The 'Make Market' button is also very handy. The idea behind this is simple: Click on the button and the system will try to automatically match you at the nearest favourable odds. For example, it will match a bet at a lay of 1.78 and a back of 1.79 simultaneously. I tried this out on a random horse race by backing the favourite twice with £2 as the price was fluctuating a lot. In each case I was immediately matched with a no risk potential profit of £0.40. Not massive, but you can see the potential on using larger stakes. Again, in inexperienced hands it is possible to lose money as there is no guarantee that the trade will be placed on both the lay and back side unless you chose the appropriate market.
Yet the Bet Angel people must be commended for their responsible approach of supplying enough built-in safety features to prevent unwary users from making silly mistakes. This includes the standard confirmation button. All features are fully customisable so that the established professional trader can put the emphasis on trading speed while the new user is encouraged to take things steadily with a default £2 stake.
At the top menu are a number of functions which allow you greater control over how to trade. These are also available through keyboard shortcuts.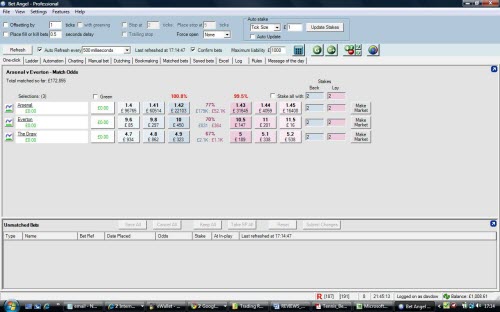 In future articles I will be exploring these in more depth. These include stop losses, automated trading, offset betting dutching and more.
So am I impressed by Bet Angel? The simple answer is 'yes'. It should be remembered that this will not by itself improve your trading, but no software could reasonably be expected to do this. And in addition the minor quibbles are perhaps something that could be addressed in future versions of the programme, But in the hands of a well versed professional Bet Angel can greatly improve profitability. It will also be useful for the 'improving' amateur trader wishing to learn new skills.
In summary, Bet Angel is an extremely useful piece of software which can do a lot for you. It has such a wide range of functions that it is not possible to explore all of them in one review.