Football Trading on Betfair: The Manual
There are a lot of trading manual out there, but are any of them any good?
This is the main question I will be addressing in a new series which will look at trading manuals in some depth.
The first one under review is the Professional Exchange Traders Manual: Football Edition from my friends at ExchangeTraders.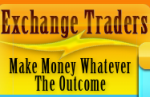 This manual accompanies the excellent trading service from Exchange Traders – and I say excellent on the basis of a long and personal experience plus an excellent hit rate in excess of  80 per cent (and often higher) consistently turns in profits ragining between £20 to £60 per trade (which of course can be higher with higher stakes).
It is targeted on people who are learning trading and wish to see how to make regular profits.  It follows the strategies which Exchange Traders members will benefit from when following the advised trades, of which there are usually more than 40 per month.
The manual explains the basics of trading, showing why this is far preferable to traditional betting.  It's true that many people trading today started out in the days prior to the betting exchanges and that the establishment of Betfair in the late 1990′s totally revolutionised the market.  Yes, it might have been fun to put 'a fiver' on the cup final or the Grand National, but all serious traders know that this is not the way to profit.
So this manual is an excellent introduction for people who realise that traditional betting is a waste of time (and money) but are still a little unsure how to develop strategies on their own.
It starts with the basics of backing and laying and uses a simple example to show how to make a guaranteed profit on a match market.  It then explains the principles of betting exchanges including setting up an account and selecting a market.  There then follows more details of strategies which can make profits on how to apply them.  Of course, trades can go wrong, so the chapter showing you what to do to minimise losses is also invaluable.  Finally, there are chapters looking at managing your stakes and software tools to help your trading
In summary, this is a really excellent and thorough introduction to how to make profitable football trades on the exchanges. It's certainly not aimed at established professionals who already profit regularly, but I would highly recommend this manual for all new traders wishing to move gradually towards more serious trading.