Peter Webb - Bet Angel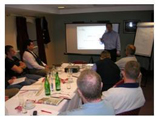 Betting exchanges have revolutionised the betting markets completely turning them on their head. Hundreds of millions of pounds a week is now matched on betting exchanges as more and more people discover exchanges and how to really use them.
On betting exchanges all the rule books about betting and gambling have been thrown out the window, as a result to people used to a conventional betting market this can be confusing. Even if you have used exchanges for some time you may not be aware of what people are really doing on them as opposed to what you think people are doing. Using an exchange is so much more than just getting a good price to back or lay at.
Exchanges now act more like a modern financial market rather than a traditional betting market and top users are using a variety of strategies and tactics to maximise the enormous potential this change in betting markets has brought.
The objective of this course is to take you from the basics of backing and laying right to the heart of the strategies and tactics that key players are using on the exchanges. We will show you examples of the good and the bad in order to demonstrate clearly the principles. You will see live sessions to show you exactly how the market works, what to look for and how to avoid mistakes. Participants will get the chance to perform successful bets before the afternoon session closes.
ABOUT THE COURSE
Find out about: -
Assuring you win even before and event has started, Backing, Laying, Trading, Arbitraging (On & Off exchange), Complex Arbitrage, Speculative backing or laying, Being a bookmaker, Dutching, Making a market on an event, In play betting & trading Pre-event betting & trading.
Topics Covered: -
The dynamics of betting exchanges, Money Management, How to identify when and how odds change, Finding the sweet spot in the market, Understanding when and how the market is volatile, Financial bets, Football betting, Horse racing, Tournament trading, Making mistakes!
Focus: -
Our main focus on the day are horse racing markets and football markets. We will also touch on other markets such as Tennis and if time permits financial bets. The markets we cover account for the majority of turnover on Betfair and our focus is here thanks to the amount of money available on these markets which is critical to your profitability. A lot of strategies do not rely on underlying knowledge of the sport and can be equally applied to any event. Each event though has its own style and method, which we will also discuss, so the tactics you learn can be applied elsewhere.
Who should attend:-
This course will most interest people who are new, or established users of exchanges. We start the day with the basics but quickly move on to focus on specific markets and strategies that apply with in them. The course book acts as a useful reference point to follow through on the detail after the course is completed. The course is not aimed specifically at how to use any piece of software on the exchanges but it is targeted more at educating, filling out and cementing your understanding of how exchanges work and how to successfully trade them.
ABOUT YOUR HOST
The course is hosted by Peter Webb, a keen statistician he has been analysing games of chance and probability from a very young age. He brings much experience due to his extensive research and analysis on the exchanges and the underlying markets. Once of the first members of Betfair, Peter is a very established trainer, speaker and writer on his specialist subjects and is very active on the betting exchange and financial markets. Peter has appeared on the BBC and Bloomberg as well as regularly writing for national magazines.
Peter's objective is clear during any event, give the candidates the chance to learn from a professional and let them tap into his extensive knowledge accrued over many years in order to get a short cut right to the heart of the matter. Peter wants to give people the chance to ask questions and get answers to things that he always wanted answering many years ago. Each course is accompanied by a weighty course book which each attendee can use to follow through on specific points. Attendees can expect an enthusiastic and professional presenter who nearly always over runs!