In-Play Betting On Betfair
The benefits of an exchange are best displayed in a live sporting event. The chances of a team ebb and flow during play enabling traders to constantly revise and improve their position.
Let's look at the example of the final test between India and Australia recently.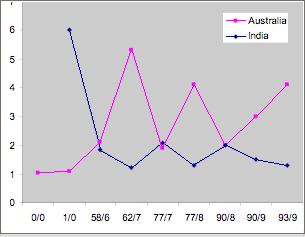 Needing just 107 in the fourth innings to win the match, Australia traded at 1.05 when the target was set, India are matched at 20. Being only day three, the draw is out of the equation.
Australia lost a wicket immediately (0-1) and drifted to 1.10.
Wickets continue to tumble, and at 58-6, India become favourites at 1.86.
Another wicket, 62-7, and India are now strong favs at 1.22 - their lowest price in the match.
Mini-revival, Australia reach 77-7 and regain favouritism at 1.89.
A wicket reverses the betting dramatically, India now 1.30 at 77-8.
The tail wags, at 90-8, both teams are trading at evens (2.0).
The ninth wicket fails, India back into 1.50.
Australia all out for 93, the final price available for India was 1.30.
Now preaching after the event is not something to be proud of, but imagine the position you could have put yourself in if you believed Australia's record in dead rubber tests and chasing small totals was worth a risk. Laying Australia at 1.05 wouldn't exactly kill you. For the potential profit of £100, you risk a whole £5 - the price of a couple of pints! Think about it - what is the downside of such a lay? Langer & Hayden defy the trend of the match and get to 50/0, Australia trades at 1.02 and you can't get out of it.
At virtually any point in the innings after the first over, you had a healthy position to trade from. Would you then back Australia at 1.5 or 2.0 or higher? Plenty of options and no need to jump in all at once. Sell the bet back piece by piece - first covering the potential loss so you then have a 'bet to nothing', then chip away to even up your result on both sides, or however you want to cheer the result - you are in control of your position. That's the beauty of an exchange.
If only it was so easy - not every game will go exactly as you plan. Watch a few games and make some notes, rather than investing cash. If you have any statistics to help you out (number of draws on a certain cricket pitch, most popular time for goals to be scored in soccer etc), all the better.
Go into the match with a strategy. Do you think one team will win? How confident are you? Do you wish to ride them all the way, hedge for an even profit all-round, or somewhere in-between? Are you prepared to risk a little bit for a chance of a big payoff?
One popular system is backing the draw first in football matches that you expect to be rather dull and lifeless, particularly in the first half. The average draw price of a relatively even English Premiership match is 3.4. If the game is still scoreless at half-time, that price will drop to 2.6-2.7. But beware the late goal, stats show that the last 15 minutes of each half are the highest scoring segments of the match, even after you allow for the addition of injury-time.
Scratch it out first on a piece of paper:
Back the draw at 3.4, for £50

Team A = -£50
Draw = +£120
Team B = -£50

After 35 minutes, lay the draw at 2.80 for £30

Team A = -£20
Draw = +£66
Team B = -£20

(note - effective position is now £20 on the Draw at 4.3)

At half-time, if the score is still 0-0, lay the draw again, 2.66 for £30

Team A = +£10
Draw = +£16.2
Team B = +£10

Team A scores after 60 mins, prices now Team A 1.50, Draw 3.6, Team B 17.0. Lay Team A for £20

Team A = £0
Draw = +£36.2
Team B = +£30
In this position, you don't mind if the home team hangs on, but you'd prefer an equaliser from the visitors. Team A continue to shorten as the clock ticks, but Team B are pushing everyone forward…
75mins – Team A 1.28, Draw 5.0, Team B 30.0
Do you ride this out or lay the favourite again?
80mins, the visitors get desperate and bring on fresh legs. Team A1.20, Draw 6.0, Team B 50.0
Risk a tenner by laying the leading team for a backers stake of £50.
Team A = -£10
Draw = +£86.2
Team B = +£80
85mins, the visitors equalise! Team A 11.0, Draw 1.20, Team B 11.0. Lay the draw for £100.
Team A = +£90
Draw = +£66.2
Team B = +£180
90 minutes - somebody scores, but do you really care with a book like that???
Alternatively, you might wish to lay the odds-on favourite if you don't think they will score in the first half-hour. There are many different strategies, many different variables, the only way to work out what's best for you is test them out.
Important tips for live trading
Go into the game with a strategy.
Keep thinking a few minutes ahead - what will happen if ….? With live trading, you are focusing on what happens next, not necessarily the end result.
Always be prepared to risk a short-priced favourite for the sake of a couple of beers.
Practice on paper or for small stakes first.
Article Reproduced with Permission from
Scott Ferguson Field Education Manager