Betfair Basics # 4
If you look at the main Betfair screen as seen below, you will see all the sports markets available to bet in. Navigate to Horse Racing - Todays card and click the button.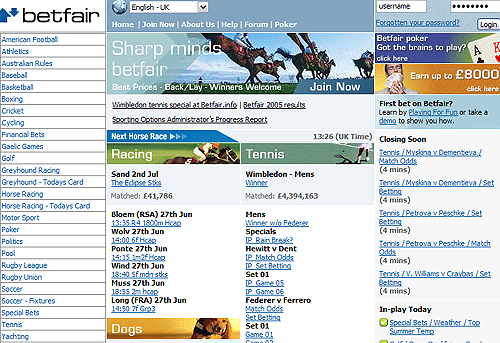 Once you have clicked on Todays card, you will be faced with the screen below. Scroll down to the race time you would like to bet in. For this example I have chosen the 14.00 Wolverhampton. You will see two different markets; the first is the win market, where you can back and lay horses in the usual way. The second market is the Place market, this is the one we want to concentrate on.

The prices on the place market are much shorter than the prices on the main markets. Here you can bet boisdale for 2.3 or lay him at 2.4. This means if you back the horse and it gets placed, ie in the top 3 horses, you will win.
You can also lay a horse not to get placed. If he comes outsite the top 3 horses you will win also.
You can find out how many places there are available by moving to the right hand side of the screen and clicking on the rules tab. This will show that there are 3 places available and will also tell you about any non runners.

The good thing about Betfair especially with Place backing is that the placings do not change if there are any non runners.
If there were 8 runners to start with and there have been 2 non runners then Betfair will still pay out on 3 places.
Be careful if you are place laying as even if the horse comes 3rd and the Bookmaker only pays out on 2 horses; Betfair will still payout on 3 and you will lose.