Save Time & Make Money
When demonstrating the site to avid Betfair clients, it amazes me how many have never checked out all the settings and preferences that can be enabled to help your punting.
Here's a summary of most of them explaining exactly what they do and how they can help you on a daily basis.
Market View Settings
- Profit & Loss Display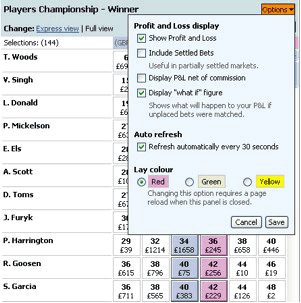 - Show Profit and Loss – just in case someone might be looking over your shoulder.
- Settled bets - this works for longer-term markets, with elimination stages. Selecting this option enables you to include those profits or losses in your current position. Imagine a Grand Slam tennis tournament where you have laid 15 players including the two finalists. Without ticking this box, your P&L would show two losers (relative to your balance) on the day of the final whereas you are actually well ahead for the event because the players you laid the most lost early.
- Net of commission - do you need to know exactly what your return will be? If you are arbitraging or like to count every penny, then this might be of use to you.
- Display 'What If' figure - this is the most important one on the whole site if you like to place more than one bet on a market. By ticking this box, you will see a second column of P&L whenever you are about to place a bet. These extra figures will show you what your position will become if the bets you are about to place get matched. This is VITAL if you like to trade in and out of positions, it does all the calculations for you!
Lay All/Back All - like to put prices up for more than just one selection? This might be of use to you.

Laying
The payout & liability options set how your risk is displayed, but did you know that by clicking on them (the linked word, rather than the radio box/circle), you can have all the calculations done for you too?
- Liability – setting your stakes by liability (i.e. what you are prepared to lose) is a good idea when laying one selection.


- Payout - clicking on this option will automatically set your stakes according to how much you wish to payout. E.g. say you want to price up the whole market in a soccer game, you choose your prices, then click 'Payout' and type in 100. All the stakes are now set for a max payout of 100 in your selected currency. When laying more than one selection, staking by the payout figure enable you to balance the risk evenly. If you lay at 1.92 and 5.1 for the same stakes, your risk will be lopsided!

- Show Help - it's designed to help the new punter, but after a while, you should be well past needing that.
- Verify Bets - once you know what you are doing, you should think of getting rid of this step, it just slows your betting down. When you first start on the site, it's an important checking stage.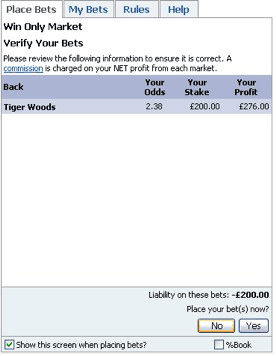 - % Book - (down the bottom right corner) make sure you aren't offering punters a 95% market by using this option! It's so much easier than adding it all up in your head.
My Bets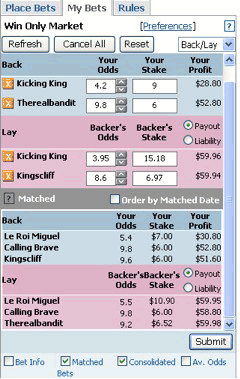 - Bet Info – Gives you the transaction number, date and time of the bet. Something to hide, you can always check that via My Account later.
- Matched Bets – If you've been backing and laying in an ante-post market for several months and have dozens of bets, unchecking this box will speed things up. You will be able to see your position via the P&L figures.
- Consolidated - Sometimes your bet offer is matched by several different people ($2, $23.44, $24.56 etc), clicking this consolidates it down to one.
- Average Odds - If backing or laying at a range of prices, this will show you exactly what the end position is of your trades, simplified to one bet.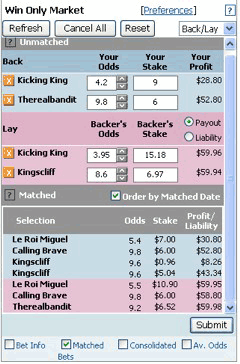 - Order by Matched Date - Got a stack of bet offers up? Use this option to see what you've done in time order. Or you might wish to use this if trading over a period of time, either in-running or as entry stages pass in a long-term market.
- Back/Lay v Selection - a different way of showing all the matched and unmatched bets, by selection rather than split into backs and lays. Back/Lay is the default, Selection is shown below.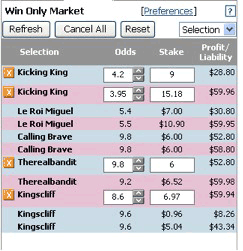 Some of these will be of use to you, others won't be, but knowing exactly what can be done and the shortcuts they offer should save you time and money.
This article has been reproduced with the permission of Scott Ferguson - Betfair Field Education Manager. The source of the article is Betfair Education