Winning the World Cup Part 1: A Betfair Trader's Guide
Trading on the World Cup Draw
I personally cannot wait for the World Cup draw next Friday. It is a reminder that we are not long away from the world's greatest football festival. And now that the all the big guns have made it to South Africa, even if a few stuttered on the way, notably Argentina under the managerially inept Maradona, it should present some excellent trading opportunities.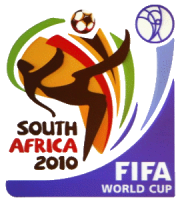 As usual there will be seeding of the top teams in order to keep them apart at the group stage.
But what determines the seeding? Two factors are taken into account. The first factor is current FIFA rankings, which currently are as follows:
Current (November) FIFA Rankings (with ranking points)
| | | |
| --- | --- | --- |
| 1 | Spain | 1622 |
| 2 | Brazil | 1592 |
| 3 | Netherlands | 1279 |
| 4 | Italy | 1215 |
| 5 | Portugal | 1181 |
| 6 | Germany | 1170 |
| 7 | France | 1122 |
| 8 | Argentina | 1085 |
The second factor is the performance in previous world cups.
You can be sure that bookmakers do not just base their odds on seedings. Indeed there are various anomalies in the rankings. For example Portugal and France's position is thanks to victories in the recent play-off, and we all know how close France came to exiting. You will also note that there is no place for England, despite a good qualifying campaign. Aside from these major factors, the seeding should follow roughly the current betting. For the record, at the time of writing the odds on Betfair were as follows:
You will see that as usual England have an usually high position given their FIFA ranking. Brazil, Argentina, Germany, Italy and the Netherlands all figure in the top places. This is as you would expect and similarly for Spain as European champions. And this is also a closer representation of likely seeding. As the hosts, South Africa will take the eight place.
Will the draw change any of the odds? The likely answer is a resounding 'yes'. Nearly every World Cup draw produces the inevitable 'group of death' and any team finding itself in such a group will see its odds lengthen. Similarly it is quite possible that some of the favourites will receive easier draws and their price will reflect this. All of these present good opportunities to traders.
To understand what will happen on Friday, note that the teams will be drawn for from four pots as follows:
Pot 1 (the eight seeded teams as above) Brazil, Germany, Italy, Spain, England, Argentina, France, South Africa
Pot 2 (the rest of the nations from UEFA) Holland, Portugal,o Serbia, Slovenia, Slovakia, Greece, Switzerland, Denmark
Pot 3 (Asia, Oceanic and CONCACAF zones) USA, Mexico, Honduras, New Zealand, Australia, North Korea, South Korea, Japan
Pot 4 (Africa and South American Zones) Chile, Paraguay, Uruguay, Algeria, Cameroon, Ivory Coast, Ghana, Nigeria
As mentioned, the draw is bound to affect the odds of at least some of the teams involved either positively or negatively. Unfortunately I am a trader not a Nostrodamus, so I cannot tell you what will happen for sure, you are just going to have to wait until Friday evening.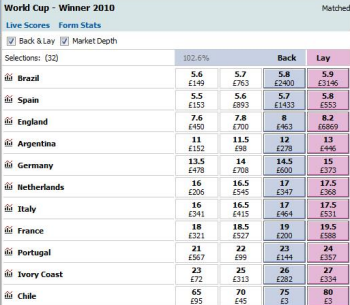 But I thought it would be instructive as well as fun to offer one scenario of how we might trade following the draw.
As always with trading, what we will be looking for is teams offering good value following a possible over reaction (either positively or negatively) following the draw.
In particular, a good strategy is to identify teams that look likely to progress beyond the group stage in order to back them at 'good odds' and then to trade out by laying them at lower odds after they successfully progress to the next round.
But you are going to have to be very careful here. World Cup history is littered with so-called favourites that failed to progress to the next round. A notable example of this was then world champions France in 2002 who made a disastrous start to the defence of their title with a 2-1 reverse to Senegal, ironically a country which was the country of origin of many of the 1998 winning side.
So we will be well advised to think through our strategy carefully and try to avoid these howlers. If you do get involved in a team that looks like it has drastically underperformed in the first match it is probably best to cut and run by laying them early on than waiting for miracles.
Using random numbers I made my own draw scenario to see what might happen!
And I do emphasise 'might' as I know you will not believe me, but I really do not have a crystal bowl.
And ladies and gentleman, here is news of the (unofficial) World Cup draw:
Group A
South Africa
Slovenia
Mexico
Chile
Group B
Spain
Slovakia
South Korea
Nigeria
Group C
Brazil
Denmark
Japan
Uruguay
Group D
Germany
Switzerland
Australia
Ivory Coast
Group E
Italy
Serbia
New Zealand
Ghana
Group F
France
Holland
North Korea
Cameroon
Group G
England
Greece
USA
Algeria
Group H
Argentina
Portugal
Honduras
Paraguay
As usual, there is a group of death, though perhaps not as clearly as sometimes happens, with Group F looking strong. And England would probably be happy with this! In this scenario we might expect Holland's odds to increase slightly whilst England's odds would probably shorten.
In order to project what might happen, we need to consider what might happen in the knock out rounds and the likely path to the final of the favourites. Again, this is obviously guesswork, but remember that all we will have to do is decide whether a team will make it through and also their likely path if they are successful. Certainly this contains a number of scenarios, but as long you correctly pick a team that makes it through the group stages you should be able to trade out for no loss even if they unexpectedly meet a tough opponent in the knock out phase.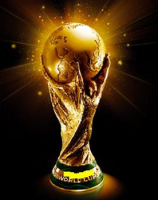 This is what the bookmakers will be doing, though they will have an armoury of data to back this up. Yet it does not really matter if we get our estimate of the odds wrong, as this is only to see what would happen if the odds changed as in the scenario. You will be able to see for yourself how the odds have actually changed on Friday.
So lets pretend that the group matches have been completed and predict how the above group might finish. It would be easy just to pick the order according to their rankings but World Cup history shows that this is highly unlikely. So lets assume also there have been some shocks along the way. Firstly, Greece shocked everyone by just pinching the top place in the Group from England on goal difference while France decide to do a repeat of 2002 by failing to qualify for the Group stages (arguably not a shock at all on current form). Suppose also that the African countries perform strongly. This would give the following tables
Group A
Mexico
South Africa
Slovenia
Chile
Group B
Spain
Nigeria
Slovakia
South Korea
Group C
Brazil
Denmark
Japan
Uruguay
Group D
Ivory Coast
Germany
Switzerland
Australia
Group E
Serbia
Italy
New Zealand
Ghana
Group F
Cameroon
Holland
North Korea
France
Group G
Greece
England
USA
Algeria
Group H
Argentina
Portugal
Honduras
Paraguay
Following the way the winner and runner up of each group have been allocated would give the following first round matches:
First Knock Out Round:
1 Mexico v. Nigeria
2 Brazil v. Germany
3 Serbia v. Holland
4 Greece v. Portugal
5 Spain v. South Africa
6 Ivory Coast v. Denmark
7 Cameroon v. Italy
8 Argentina v. England
In the above, winner of match 1 will play winner of match 2 (and so on) in the Quarter Finals.
You will immediately see that Spain looks to have a much easier run to the final stages. This would represent a good opportunity to back them at the Group Stages and lay them again perhaps at the semi final stages.
Of course this is not the only way to make money in the World Cup. Once the draw is made we will be able to see more clearly what options might be available to us, but the principles will be the same: Look for an overpriced team with a view to trading out at the later stages for profit. Similarly look for an underpriced team with a view to laying them and backing them or trading out later on.
Also look out for strong teams likely to finish in a stronger 'half' of the draw, though you might be advised to wait until you are reasonably confident of such teams emerging as a group winner, as in the Spain scenario above.
We may as well go the full way with this (besides, its fun!)
Quarter Finals
Mexico v Brazil
Serbia v. Portugal
Spain v. Ivory Coast
Cameroon v. Argentina
I deeply regret to announce that England lost on penalties….again! (But if its any consolation they showed a marked improvement on their form in the group stages and England had 2 perfectly good goals ruled, out; ah well, make that 44 years of hurt. surely they'll do it on the 50th anniversary?).
Semi Final
Brazil v. Serbia
Spain v. Argentina
Final
Brazil v. Spain
And the winner is…Spain: A goal from Torres in the 119thminute of extra time – though the Brazilian players surrounded the referee claiming offside (and by the way, tp add insult to injury, he backed heeled it into the net from 3 yards out).
One thing for sure, the above scenario will not happen. But it does show how we might profit from the draw this Friday.
Come to think of it, if the above draw and results do happen, it would be very, very disconcerting!
Roll on the draw on Friday.