Penny Stock Secrets Revealed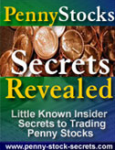 Penny stock secrets revealed is an e-book that will transform how you trade penny stocks. It will save you valuable time and give you the tools needed to trade successfully.  The book tells you how to find stocks instead of listening to "pump and dump" hype.
Jarred Scott has been trading for 16 years and worked on the exchange floor. He will tell you how to use 6 internet search engine keywords to your advantage, a method of knowing if a penny stock company has liquidity (cash in the bank), a legal way to get company information before an announcement, two things a winning stock must have and one signal that will tell you that you have bought a winning stock.
If you trade penny stocks or are interested, this book should help improve your trading to become much more profitable.