The Trading Pro System
Trading pro system is not just for traders but for anyone who has money in the stock market or anyone who wants to start making money from the market.
When you first go to the Trading Pro System you will be able to watch a small video and also you can download a 35 minute video which I have watched.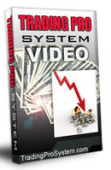 The Trading Pro System will help you to help yourself, it will empower you and its the only system of its kind as the author is the system proprietor. It has taken 20 years to produce and is like most people, a retail investor. The methods the author uses are also the same used by professional hedge fund managers and market professionals who rarely talk about their strategies…which is why I was so intrigued to watch the video because I am a market professional and I rarely talk about my strategies, except now for Lay The Odds and another website.
Once you get to grips with the system it can be managed in around 15 minutes a day but naturally you will need longer when first joining. The course contains over 40 videos totalling over 24 hours and a further 60 bonus videos! It is definately jam packed and not fluffed out. You will have a choice of 2 formats, online streaming or downloadable. You also have a choice of becoming a full member or a monthly member. For the amount of quality content its an outright steal…
The Trading Pro System is a course I intend to review with enthusiasm.