USDBOT…A New Generation
The USDBOT is the next generation forex specialist trading robot.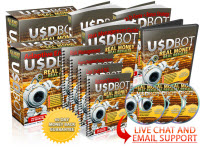 It has not been released for long and there are comments that the introductory price will not only rise but also as soon as the makers have sold their target they will close down and will become a closed inner circle!
They are giving away absolutely free a 2010 forex guide without even taking the product. I have not yet read the book but I will and let you know what I think of it…probably on the weekend when I have a little time spare.
The USDBOT makers state they have 2 years of research and development into their product along with real money trading profits. We all know…or at least we should…that fantasy forex trading is just not at all like the real thing. Certain elements come into play that just dont exist with real money trading. A robot takes out those human elements and acts upon direct algorithms so there are no human psyhcological errors as even the best of traders experience, even myself!
I personally trade forex every day where I work and the profits really are real and incredible. A relatively small 10-12 pips per day averaging amounts to a very serious sum every month! USDBOT claims to make more.
There are ways to make a robot work in your favour and money management is key. Every day or week, you take out 50-100% of the money you have made until the robot has paid for itself. Thereafter, you gradually decrease the money you take out. So for the first month after the USDBOT has paid for itself you would begin to take out 40-90% of the profits (how much depends on you). The next month you would decrease again by 5-10% and so on. Within 6 months you should have paid for the robot and also have netted a very good profit in the bank…real profits, real money that you can spend. Then if you wish you can leave the money on account you have made with no risk to your bank and allow to accumulate. Always remember though….take out profits periodically, that way you will always make money and by accumulating after you have your money back you really will be laughing!