Psychic Soccer Profits
A new Soccer Laying System is about to hit the shelves. Known as Psychic Soccer Profits, it is a football betting strategy that combines an In-play Football Service, something that I have not seen before, with a Staking Plan to provide you with constant soccer profits.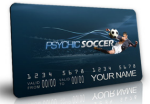 It is a secret football laying service that helps you capitalise on in-play markets. PSP predicts the outcome of matches through its' system criteria, delivers the selections to your inbox, with a suggested maximum odds for the lay. They also give you a Staking Plan devised to go with the service, it is of course up to you whether or not you follow that plan.
I have been following the trial since it started on January 13th and to date we have had 19 lay selections of which 16 have won for us, 84% Strike Rate. I started the bank at £1000 and it has now increased to £1475, an increase of 47.5% over 12 days. So, how does Psychic Soccer Profits work? First of all, it is a service not a system, they deliver the selections to your inbox. It is currently undergoing trials.
During the trial, you have been e-mailed each morning to let you know whether or not there are likely to be selections for that day. They let you know what time they are expecting to start and how long the session may be. As the games are in progress, they pick out likely teams to lay using their system criteria. Once they have found a lay they send you an e-mail letting you know which team to lay and at what odds. It is then up to you to be able to pick up this e-mail and lay the team on the Exchanges as quickly as possible. This though has been the bug bear with the system. There is obviously a time delay between them identifying a selection and you receiving their e-mail. This has meant that you are not always able to get the odds they send through, although they do have a fall back and stipulate maximum odds at which to lay. Ideally though, you want to be laying at minimum odds and not maximum odds.
To remedy this problem they have currently commissioned a betting robot (bot) that is being designed specifically for use with Psychic Soccer Profits, where the pre-programmed criteria are already built into the bot. This will mean that so long as your computer is switched on, the bot will make all the bets for you and you don't have to think about it at all. This will also alleviate the problem of having to sit at your computer for hours on end during games. They are hoping that this bot is ready for use by the launch date on 12th February. As long as this comes to fruition, then the package will be a very popular one.
One other gripe I have with the system is the Staking Plan that they employ. During the trial we have never had 2 losing lays on the trot but if we had done and they had been laid at maximum odds then we would have lost half of our bank in 2 lays. This is not acceptable and you may well be better off devising your own staking plan, that is not as catastrophic.
Once all the wrinkles have been ironed out, hopefully before launch day, then I am sure this service will be well received. As you can see from the results of the trial, it is a very successful and profitable service that you will be able to run automatically from the bot, leaving you free to get on with your life.
Overall though, the service has been very good, made all the better by a constant stream of winners and only the occasional loser. The bank grows rapidly and you do get selections more or less every day. The selections can be from anywhere in the world. The first one may be from Australia and the next one Africa, you just don't know where the next one will be. We are in the game of trying to make money and this service is certainly living up to that expectation and I am sure it will do very well indeed.
You are still able to get onto the free trial, so if you want to know more and get on the trial, check it out here.