Soccer Bet Winning System
An e-book by Tyler Yuen that provides a "winning system with proven strategies in soccer betting". This system provides a simple and quick selection process that highlights the right type of game to concentrate on.
Soccer Bet Winning System is an easy to use but powerful system that works on systemmatic strategies. It will give "instant profits and allow you to enjoy a winning run immediately". You are also able to access free advice and tips from Top Professional Soccer Punters.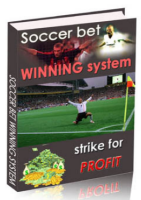 It is an analytical but logical system, which is clear cut and gives examples that helps prevent making bad choices. It helps build confidence and maximise your profits. There are 3 bonus offers as well, including, a Horse Racing Back System, Poker Tips and Tools and an E-Lottery plan that is the smarter way to play on the National Lottery and Euro Millions.
So if you want instant profits and a simple to use Soccer bet winning system, then check it out.