The Football Laying Code
This well written e-book expounds a method devised by the author at the start of last season. It deals in the "First Goal Time Market" and I have never seen a lay system working in that area before, although I do play in that market myself.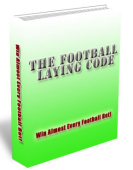 The system itself has only 3 very simple rules and means that you are able to make your selections in minutes. It can be used in any league in the world, as long as the game is on the exchanges.
There has been an independent test and review done on the Football Laying Code, which you can find a link to, on the site. In a nutshell, it is showing over 90% strike rate at maximum odds of 7.0, on those figures you are going to make serious profit. There are also, 2 staking methods covered.
Click Here for The Football Laying Code