All Weather Backing System
With the Flat Turf behind us and the new National Hunt season already experiencing abandoned meetings due to the weather, it seemed appropriate to take a look at the All Weather methods/systems scene.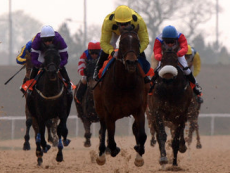 I have been reading good feedback about the All Weather Backing System that has been around for a couple of years now, and has an impressive set of results on a no nonsense website. In summary the All Weather Backing System has produced 298 selections from early 2007 to date, simply backing these to win using level stakes of £100 at SP has returned a profit of £9423, which is a very impressive 31% return on investment!!!!!
The All Weather Backing System is very simple to operate, it has 10 simple steps and everyone will get the same selections as there is no ambiguity in the selection criteria. Whats really refreshing, is that the author is open about him still having a 9-5 job, and he states that he uses the All Weather Backing System as part of a portfolio to make an additional income each month……….