Betfair Blueprint
Are you fed up with systems containing the same old rehashed ideas? Well finally there's a Blueprint that cuts through the bull and gives it to you straight!!!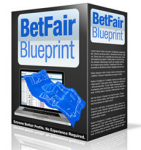 Betfair Blueprint is a step-by-step guide to picking winners using a simple but comprehensive process, and is definitely not just a list of meaningless rules. The method works brilliantly to offer a regular and consistent second income opportunity.
During one recent test Betfair Blueprint selected 33 horses during the four week period, an amazing 85% of which were winning bets. It can take as little as 5 minutes a day to find the selections and comes complete with an innovative staking plan to maximise the profits…..