Back and Lay - Arbitrage - Exploiting The Discrepancies

Back/Lay Arbitrage Example 1
Paddy Power has been slow to cut its price on a horse that has shortened substantially on Betfair. Although the Lay price of the horse on the exchange has fallen to 7/1 (8.00), it can still be backed at 8/1 (9.00) with Paddy Power. The only constraint on your bet is a maximum stake limit of £500 imposed by PP on this horse. You would like to exploit this price discrepancy by backing the horse up to the maximum with Paddy Power and laying it off at the lower price on the exchange. However, you don't know how much you should lay off in order to guarantee a level profit whatever the outcome.
Back/Lay instructs you to lay the horse for place £566.04 on Betfair to ensure a risk-free profit of £37.72 if the horse wins, or £37.74 if the horse loses. Note that you will always have to disable the Back and lay on same betting exchange commission option when calculating stakes for Back/Lay arbs, as Back/Lay arbs, by definition, can only be found across different betting sites. The only time that you need to select this option is when you are exploiting price movements on the same exchange ("intra-exchange trading").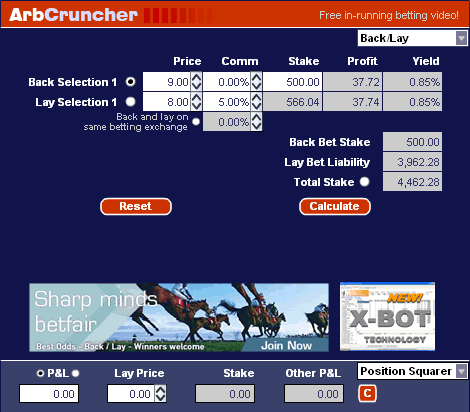 Back/Lay Arbitrage Example 2
Rumours of match-fixing have pushed an Eastern European soccer team's Lay price down to 1.98 on Betfair, where your commission is 4.5%. Although most online bookmakers have reacted by adjusting their own prices, one of them is still accepting bets on its coupon in its betting shops at the original price of 5/4 (2.25). You have £1,000 at your disposal for this arb, but don't know how to divide your stake between the Back and Lay bets to ensure a level profit whatever the outcome.
Back/Lay tells you to place £472.99 on the team in the betting shop and lay £537.77 on Betfair. Whatever happens, you will win a net profit of £40.58. In real life, you would probably be wise to place £473.00 or £470.00 in the betting shop so as not to draw attention to your nefarious arbing.
Reproduced with Permission from Arbcruncher.com
Read our full tutorial on Arbitrage