Puntology
The invaluable Puntology course is being relaunched and now offers a FREE VIDEO that explains how to use the VRR Lite rating method. In addition there will be a major bonus available for a limited time so why not take a look and see how the course can change the way you do things and lead you to a profitable future.
Puntology is a step-by-step, 52 week Training Program for becoming a Successful Pro Gambler. With the introductory quick start lesson you will be finding your own value bets in the first 90 minutes after you register for the Puntology course.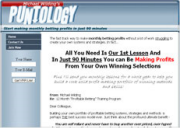 Every week for one full year you will be able to access that week's step-by-step lesson, which will include an assignment to ensure you make progress every single week. The totally comprehensive course will teach you all you need to know to set you up for a very profitable future from your punting activities. Everything is covered in clear and easy to follow detail and will highlight which races to specialise in, how to customise ratings to make them unique to you, and to continually improve your form reading abilities so they can be further improved to Double, Triple and Quadruple your income and profitability.
If you would like a taster of what you can expect from the Puntology course then click for a FREE COPY of VRR Lite which will get you started rating races for yourself.