Smoke and Mirrors
This amazing horseracing system made over 50 points profit at the last Cheltenham Racing Festival, and has been making profits week in week out ever since, and is perfectly poised to repeat the feat again at this years meeting in just a few weeks time.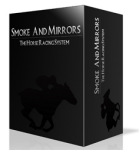 Smoke and Mirrors is revolutionary because it uses a special code to pinpoint winners from 9/2 up to 33/1, and by using the betting exchanges such as Betfair it further enhances the profits!!
There is no hard work, no researching form, as long as you have a computer with internet access and a few hours in the afternoon (can be used at weekends only to devastating effect) you will never look back.  The 40 page manual is simple and easy to follow and is supported by a series of videos to access showing you the method recorded live in action.