The 3 Minute Systems
Discover how to make £200 to £500 per day using simple yet effective horse racing systems that take just 3 minutes to select winners.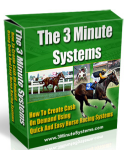 If your interested in making easy, tax free income then learn the secrets that The 3 Minute Systems can offer and start winning from betting on horse racing today.
The 3 Minute Systems have been fully tested and have a proven track record of being in profit every single month for the last 16 months.
The systems can be applied to any horse racing around the world, have nothing to do with arbitrage, and are available for a small one off fee. Order your copy of The 3 Minute Systems and you will be able to tap into the secrets and profits in seconds.