The Balay System
A statistically formulated racing system brilliantly designed to give a low risk, tax-free income for life!
The Balay System is a revolutionary new system that takes the stress of horse race investing, because no matter what the horses do, win or lose, you WIN!!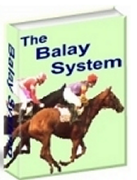 Create a good steady salary every month, working from home, without having to learn anything about horses, racing trainers or jockeys. This system is based on tried and tested statistics, not tipsters, insider tips or any other false information as to whether or not a horse is going to lose or win.
Discover how to create a regular steady income with only 20 minutes preparation every day! The Balay System originated from the experiences of two authors who, following the horse racing statistics, discovered a totally new way of using these trends. Dr Dennis Coote and Hazel Reed are already well known for their other fantastic earner The Fancy Fillies System, and The Balay System is right up there alongside it in the profit hall of fame.
Learn the skills to give you a steady income of at least £500 per week, this is NOT a get rich quick scheme - this will give you a weekly/monthly income for years to come.