Bet Bot Pro
The Bet Bot Pro is a bot with a difference, it works!
I came across this purely by accident, and I am so glad that I did. Once you log in you are presented with a number of changeable settings: We can back or lay - this is an important setting, next we can decide whether or not to back/lay at Betfair SP.
We can then decide on horses, dogs or both. It is here that you should load the races - another nice touch - you can select which races you want the bot to monitor and place bets.
The most important setting is tucked away at the bottom unfortunately. Here you decide on favourite, 2nd favourite on to the 4th favourite. A slight design fault in my opinion, but it is visible. Once you have selected the option you wish the bot to look for, it's back to the settings on the right hand side of the screen.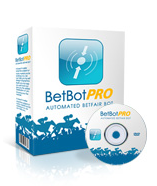 Here you can stipulate minimum and maximum odds, when the bot monitors and places bet (I use 15 seconds) and a host of other settings - stop losses, stop after x amount of wins, stop after x amount of losses, also a loss recovery mode.
I tested the system to £20 stakes on Greyhounds and then moved on to Horse racing (including U.S Racing). I made a nice profit on the day. There are professional settings available - and also the option to paper trade (called simulation mode). Coming in at under £100 - a one off payment I should add, I have to recommend The Bet Bot Pro.
This is a fire it up and leave it bot. I would recommend using this in simulation mode for a few days before using real money.