False Favourites
Jonathon Burgess, a Betfair accredited trainer has revised his False Favourites e-book. It comes in the form of a pdf manual. This isn't just a systen, more a manual that will point everyone to the false favourites. I originally reviewed the system about 6 weeks ago. Available through download immediately upon receipt of payment, the author guides you through various rules. It is split into Flat, National Hunt and All Weather.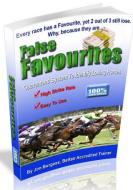 The "rules" are both logical and simple. Jonathon stipulates in the sales letter that selections are made within 10 minutes - I can't argue about that. After a little practice it can be achieved in less. This isn't a "get rich quick" system. Sensibly, the author believes in solid, consistent profits. No ridiculous boasts are made. I would suggest concentrating on one code at a time until you feel comfortable.
As I mentioned earlier, False Favourites is available through a download and is exceptional value for money. It comes bundled with a free e-book worth £29.99. The author replied to any questions very quickly too (This is unusual). I cannot recommend this ebook highly enough - outstanding value for money.