The Importance of a Good Rakeback Deal!
I can confidently say that the failure of obtaining a good rakeback deal is one of the primary reasons as to why most people lose at online poker.
Ok, let's start from the beginning, shall we….
What is rake?
Rake is how poker sites make money and it is the fee that poker rooms charge players for playing on their site. It is usually 5% of the pot, up to $3 per pot. In tournaments, the fee is generally 10% of the buy in.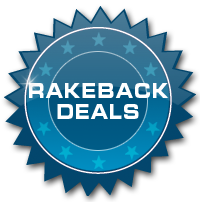 What is Rakeback?
Rakeback is a refund to the player at the end of the week or month. It is usually around 30% of the total rake and can add up to a lot. It also turns a player who is a small loser or break even into small winners.
Why is it so important?
To highlight the importance of rakeback, let's suppose you are a No Limit player playing 3 tables of 25/50c for 3 hours a day. At the end of the week you will have raked around $350 and of that you will earn $105 (30%) a week back into your account. Now that is better than nothing and it means that you now have just over two buy ins to try to build your bankroll.
To highlight this example, take a look at my November chart. I currently play on average 3 tables of 50nl and one table of 2/5 limit at Betfair. The green line is my actual profit and the blue line is profit and rakeback. As you can see the rakeback amounts to $700!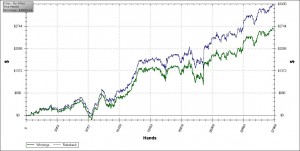 If you happen to be a substantial losing player, it does not matter the amount of rakeback you earn, you need to improve your game dramatically. However, this at least gives you some 'breathing room' and at worst, prolongs the inevitable of going bust. I cannot stress enough the importance of good bankroll management.
Where do I sign up?
Betfair currently have a great rakeback program of up to 40% rakeback. Click here to sign up. If you would like to know more about Betfair Poker, click here.  See below more details regarding this fantastic offer.
Rakeback is paid directly into a player's Betfair account twice monthly, on the first and third Thursdays of every month.
40% rakeback if you rake more than £1,500 a month.