How to Beat No-Limit Hold 'Em 6-max Cash Game' by Bill "Billyjex" Vosti - Review
Overview
Skilled Online Poker is an ebook written by poker pro Bill 'BillyJex' Vosti from skilledonlinepoker who has made 235k over a two year period playing online poker and screenshots of his earnings are available on the website.
Directly from their site this is what they have to say about themselves:
This is the new, definitive ebook on how to dominate no-limit Texas hold 'em 6-max cash games, the most popular form of cash poker online. Written by professional poker player Bill Vosti, this ebook contains over 170 pages of hard hitting material that can take anyone, from beginners to advanced players, and turn them into a dominant force at the table.
I had a chance to take a long look at Skilled Online Poker to improve my NL game and also to write this review and here are my thoughts: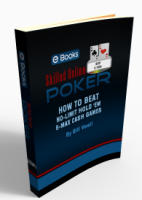 It is true that it is aimed at players wanting to improve exclusively 6 max NL cash and is catered for both beginner and more advanced which is great.
The chapters are broken down and flow nicely with numerous real examples to illustrate important concepts. Every chapter has a summary.
I have included a sample page below.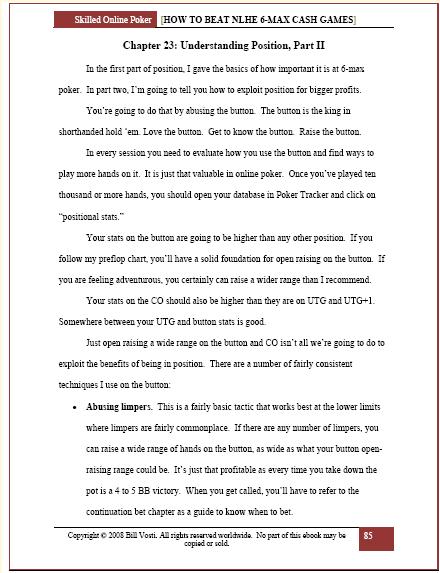 There is the usual advice that you would find in most poker books. This book goes further in those key concepts which include:  starting hands, position pot odds, bluffing, bankroll management, stack sizes, tells, table selection and labeling your opponent…
Where it gets more interesting is when Billy talks about:
• Technicals: Many concepts are related to technical stats that is linked with PokerTracker / Hold Em Manager (which is definitely a good thing) so it is important that the reader is familiar with those tools. If you are not familiar with those tools then if you want to take your poker seriously then it is highly recommended that you learn how to use it.
• Levels of thinking up to level 5; asking yourself whether the villain thinks that you have what he thinks I have so you can beat him!
• How to put your opponent on a range and to think in terms of equity when making a tough decision.
• Your image and how to manipulate it
• When to double / triple barreling and 3/4/5 bet
• Metagame: How to beat opponents you have a history
Included is a 6max pre flop hand selection chart which is useful that you can print out and stick on your wall while you play.
Conclusion

After reading this book will you earn 235k in the next two years? Probably not but it will definitely guide you in the right direction and if you follow the guidelines then you are more likely than not become a winning player.
Click here to find out more information about How to Beat No-Limit Hold 'Em 6-max Cash Games