How to Shake the Online Poker Money Tree Review
By following the instructions in this manual you can make in excess of $100,000 per year playing full time.
Now of course, I read these types of statements and I am a bit skeptical. However, with an open mind I proceeded to read this Online Poker manual and here are of my thoughts:
It is thorough, in fact 136 pages. The first part of the manual focuses on the best and safest sites to play and why.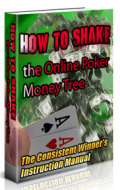 Next there is information on the methodology it takes to win and this is where it gets more interesting with content relating to:
Bankroll management
Proper hand selection
Understanding each situation
Obeying the pot and stack sizes
How to take proper notes
Staying fluid and changing gears
Making adjustments according to opponents
Above advice applies to all variations of poker and the author proceeds to narrow down which games and limits to play and why, including:
Limit (the author is quite dismissive of limit)
NL cash
7 card-stud
Omaha Hi/Lo
Pot Limit Omaha
HL Baguli
Small tournaments
Large tournaments
The author then goes into a lot of detail on the above variations quite systematically and what it takes to win. The chapters are written in instructional "how to" format for cash games. There is an additional chapter on beating short handed games which is welcome. Key information is highlighted in red throughout.
What I enjoyed about this section was that I am a complete newbie to Omaha Hi/Lo and beginner in Pot Limit Omaha and I was able to grasp some key concepts relatively quickly.

Negatives:
The author speaks about a variation called HL Baguli and 7-card stud games which are not hugely popular.
There is also an omission of limit hold 'em strategy.
Overall
This is a good and comprehensive guide to online poker and in particular NL cash and is definitely worth the investment of $39 or £24.74.
Click Here for How To Shake The Online Poker Money Tree