Online Poker Training System E-Book Review
What surprised me most about the Online Poker Training System is the cost. At only $8.95 (£5.70), I was really wondering if this was a scam at the very worst or just crap work at the very best. However, the guides are good and thorough and just a bargain! Sometimes in life if things are too good to be true, it is!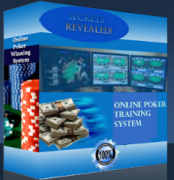 What you get for this great price are six comprehensive guides:
Guide to Online Poker: Best sites to play and why, hand selection, pot odds/implied odds, bluffing and how to play pocket pairs;
Build and Manage a Bankroll like a Pro: Bonus hunting, refer a friend, freerolls, rakeback, tournament / cash game bankroll management, Poker Evolver software;
Secret Online Poker Strategy and Tells: Size of bets, insta-check, Multi Table Cash game strategy, Multi Table Tournament strategy, Sngs, Step Tournaments, Satellite Tournaments, Collusion, Poker Software;
Seek and Destroy Weak Players: Pyramid Scheme strategy, table statistical analyses, avoid being a weak player yourself, how to read the story and outplay your opponents, time clock tactics for making easy money;
What it Takes to be a Poker Pro: Poker pro traits, cashout and earnings, player logs, using software;
Sit 'N Go Winning Strategy: 4 types of playing styles, winning style, how to beat loose aggressive players, tight aggressive squared strategy.
Overall, for the price this is a fantastic deal for such comprehensive guides, particularly if you are starting out in the wondering adventure of online poker. Don't miss out!
Click Here to find out more information about Online Poker Training System