The Greyhorse Bot
Horse racing has always been my main interest when laying on the exchanges, but now I have found a even better way to add a bit more to my income using a market that has 3 times as many daily races, only 6 runners and no cheating jockeys to worry about!!!
Greyhounds are so unpredictable it is great for people who like me use betfair.com to bet on runners to lose, and you can do it is easily with this software.
It really does make me angry when I see people claiming you can win £1000′s when we all know to do that you will need a huge betting bank to start with which allows you to bet £100′s on each race, but we are not all that lucky.
The real way to win is to make small amounts from different methods, investors call this "spreading your risk" and it works for them and it will work for you as well, and one place you can make a steady daily amount is on the greyhounds.
Typically greyhound meetings run every 10 minutes and are normally split into 3 daily sessions, shared between two courses which means you have around 72 or more races to use a day, a few more than horse racing!
When I set out to create a system to use with the greyhounds I realised quite early that one of the biggest problems was that you could miss a race quite easily, even a phone call could distract you long enough to miss a race. 10 minutes goes quicker than you think.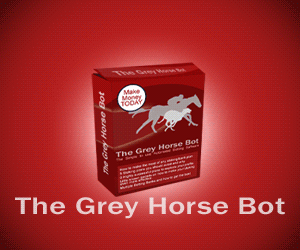 So after already inventing several betting bot's it wasn't long before I contacted a programming team to help me produce a bot that would make betting on the greyhounds automatic.
After several months of testing I was pleased to announce the release of  the GreyHorse Bot but now several months later the bot has been improved to allow you greater flexibility.
We re-named the Greyhound Bot, The Grey Horse bot, because you can now use it on Greyhound and Horse races and you can also manually or automatically (based on price) select runners.
The Greyhorse Bot is not just a betting bot, it has a special selection system built in so that you don't even have to worry about what race to select, which means you can get the most from the Greyhorse Bot straight away.
The real beauty is that the Greyhorse Bot does it automatically for you, it takes less than 5 minutes to set it up in the morning and then it automatically places bets based on the criteria outlined in the users manual, and even stops as soon as your profit level is reached.
It's even safe… you can set your maximum acceptable loss on the odd occasions things do not go your way.
Look at these features…
Choose as many Greyhounds races as you wish daily.
Choose as many horse races as you wish daily
Manually select runners
Auto select runners (based on price range)
Set stake by amount or liability
Set Maximum Profit and Loss
Back or Lay (not both together)
Odds trigger range (maximum and Minimum odds to bet at)
Odds to bet (only bet if these odds can be matched)
Unique Staking Trigger (Staking scratch back)
Go inplay
Check odds only once (cancels the bet if your price is not available)
Paper Trade to test betting ideas
Carry forward loses (If you are running a continuous staking plan over several days)
Win and Lose streak. The Grey horse bot can be set to stop after one or more losers or one or more winners.
Full Users Guide
This bot has got everything it needs because it has been designed by me in use or from other current users, but at the same time it hasn't got lots of confusing options that you will never need.
Unlike horse racing the amount of money on greyhounds (liquidity) is a lot less, so there is no way you are going to bet 100′s a race, but there is no reason you can not make up to a £100 a day .