Soccer Magic Matrix Review
Soccer Magic Matrix is the younger brother of Betting on Soccer Strategy and is a nifty little piece of software that sorts your doubles, trebles and accumulators into profit winning combinations. If you are a lover of multiples, accas or perms, this is a must for you and at £29.95 is an absolute snip.
What is Soccer Magic Matrix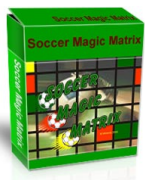 Soccer Magic Matrix is not a football tipping service or a football system, you still have to come up with your own selections but what it does is frame your combination bets in a powerful bet structuring program. It manipulates your bets to provide more overall profit potential through a "profit target diversification" program. It sounds complicated but IT IS DEAD EASY. It works out your stake and profit using fractional or European odds with one click of the mouse.
For those of you who like to play in the football market with doubles, trebles or accumulators, it takes away the pain of working out your potential profit or wondering how to split your stake. The program does all this for you and if you want to change the scenarios, then you can do that too. In fact it is a great way to test and try different betting options to see which one will give you the greatest return for the smallest outlay. You can tweak the results until you have exactly the outcome you require.
How does Soccer Magic Matrix Work?
SMM can deal with up to 6 matches at a time. So, you enter the details of those matches into the program, i.e. team names, odds and either your total stake or your profit target. You then proceed to look at each game and decide whether it will be a home win, draw or away win. All the info is in now in and you can press the calculate button and it will give you an instant read out for your stake or profit potential. Within the program you have the opportunity for up to 6 different bets. For instance:-
Bet 1 could be a treble on 3 of the matches
Bet 2 could be a treble on the 3 other matches
Bet 3 could be a double on 2 of the games
Bet 4 could be a 4 fold accumulator
Bet 5 could be another double
Bet 6 could be a 6 fold accumulator
When you think about there will be hundreds of ways that you could develop a bet within 6 matches, the outcomes are endless. It is also good fun testing and trying out the software whilst you are learning and winning.
Full instructions are set within the program with worked examples and if you have experience of the fantastic BOSS software, I can tell you this is just as simple. You will be off and running within 15 minutes.
Main Features
Turn odds on bets into more lucrative ones
Use fractional or decimal odds
Set your own stake level
Set your own profit target levels
Quick click bet scenario generation
Generate loss covering bets
Save bets
Print bets
The system is so flexible and powerful that you will be amazed at its' potential. Up to about a year ago, virtually all my football bets were singles and although they had been doing very nicely thankyou, there is always that nagging doubt in your mind saying, if you can win on singles, just think how much more you could win with doubles. When you start to look at the numbers it does make you think. Even if you just have a double and they are both 8/11 (both odds 0n), if they come in you are looking at 3 points return, that is 2 points profit (200%ROI) just for picking out 2 odds on shots.
It is one system you can pull out of your toolbox time and again, have fun using it and make profits at the same time. I have actually been using SMM for quite a while, not all the time but certainly at least once a month. I do have lots of other testing that I do and so tend to pick systems up and then drop them before coming back to them at a later date.
I used SMM on the midweek games this week, picking out 6 games and mixing and matching them to come up with 6 trebles. I had a total stake of £100 which I split between the 6 bets, as calculated by the SMM software, obviously even when you have a winner, 5 of the bets go down but that doesn't matter because as long as one comes in, your profit is there. I did manage to get a treble up and for my £100 stake it returned £334, a profit of £224 (224% ROI) and these were at odds of between 8/11 and 11/8, that is not bad going. If I had played them as 6 singles I would have come out with a minimal profit.
Who will it suit?
SMM would be good for those who:-
Play doubles,trebles and accas
Want to increase the bank quickly
Want more than just singles
Don't want to get involved with the maths
Want another system in their armoury
As for the downsides, it is difficult to come up with any. The system is under £30, it is powerful, it is versatile, you can play on any matches, it is a simple 12X system that helps you put together fantastic combinations in seconds, that used to take forever. I thoroughly recommend this system to anyone.