X-Feeder Review
X-Feeder is a personal favourite of mine when it comes to profiting from Betfair Games for many reasons, so I wanted to write an X-Feeder review for you. I like to call it the bread and butter of my on-line trading pursuits!
The initial beauty of it is that you can, completely free of charge use it with test money, which enables you to paper trade any strategies at no risk to your bank. It matches your bets and settles exactly the same in test mode as it would in real mode.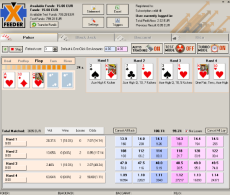 I have been using it for over a year now and it has done extremely well. It has an extremely simple interface that will take you a matter of minutes to familiarise yourself with and the many functions are well laid out and easy to grasp.
X-Feeder allows you to play with all six games, Poker, Blackjack, Baccarat, Hi Lo, Omaha Hi and Card Derby and offers manual betting functions, such as one-click betting/cancelling, with powerful automated functions, such as automated green-up, stop-loss, auto-Dutching and above all triggered (conditional) betting.
The latter, triggered betting (X-Feeder Triggers) is where we can learn to make some easy consistent money. Using the software and inputting certain criteria to be met, we can let it run its course and it will only bet when those criteria are met. Exactly the same as a betting bot that can be used to place our bets in horse racing.
X-Feeder is linked with Betfair's API and is recognised software. It is so much easier to experience the power of Betfair Games using the software and like I said above with the test mode you can trade for as long as you like to see if your strategies will work.
How do I profit from X-Feeder and Betfair Games?
There are a few systems that I use and I recommend using the free triggered betting downloads that come with the free download of X-Feeder. Again I recommend testing them in test mode first to see if they work for you.
As I mentioned in my tutorial for Hi Lo last week the importance of money management plays a big part in this and this is the first key ingredient to any system. We will start with a £100. I must stress the importance of this. ONLY BET WITH MONEY YOU CAN AFFORD TO LOSE. Once we have our money in our Betfair Games account we will be trading on X Card Derby racing.
We first need to go to the triggered betting function located in the top part of the interface and click on this. We then "add block". In this block we need to enter the following criteria:
Action: Lay Amount: default lay Price: current best
In channel: all card derby main bets on selections: All selections
Repeat action once per game exactly in round 1
We then edit conditions. This will be that any selections lay price is equal to 4.05 and any selections previous result was a winner.
We now need to make sure that we have automated green up switched on in the settings section located next to the triggered betting function. Once all these conditions have been met we have a very profitable system in place.
Back to the money management part. We start with £100 and within the settings part of the software we select the stop trading part when our profit reaches £50.00. We also set the stop trading part to -£20.00. Each trade will be set as the default back and lay of £5.00.
This means that if our bank was to reach £80.00 then the software will stop trading. This will happen from time to time but the strike rate for the bank to reach £150.00 is around the 80% mark.
This is a fantastic way to create either a small second income (remember that you could trade with £2.00 and adjust the risks accordingly) or use your profits to go towards any other systems you have on Betfair with sports betting or Horse Racing!
That's it. I highly recommend X-Feeder and the fact that you can realistically place bets without risking your own money makes it the perfect tool for anyone's betting portfolio.
On Laytheodds.com we have a dedicated Betfair Games & X-Feeder Forum. If you're looking around for an X-Feeder crack, I doubt you will find one and if you do, BE VERY CAREFUL because most illegal files contain viruses and spyware.