The BetPlan Final Review
Written By: admin
|
November 18, 2011
|
Posted In: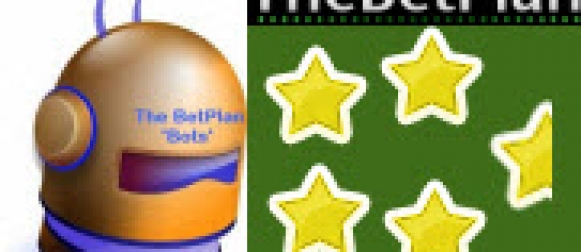 The BetPlan - Review Summary
Tuesday 15th November 2011:
Passed





Hi Bloggers,
FINAL REVIEW OF THE BETPLAN TIPS SERVICE.
Well the 90 days are up and I must say, overall I am quite impressed.
In total, The BetPlan service has offered 153 selections over the ninety day period, an average of 1.70 selections per day and found 78 winners which equates to an impressive 50.98% strike rate (There is a slight discrepancy between this and my record from The Staking Machine of 2 runners, I have 155 runners in the TSM figures that I posted in the reviews but cannot find where as I took everything from my main spreadsheet).
I have divided the selections into three equal thirty day periods in an attempt to see how a monthly review might look, based on the early odds and sp returns: nb: Each period below restarts with a new 1000 point bank for the 30 days.
Days 1 to 30: 17th August to 15th September 2011:
Selections: 50    Winners: 26        S/R: 52.00%
P/L from a 1000 point bank (using 5% ratchet staking plan):

(E/O): +735.82

:

(SP): +518.94
Days 31 to 60: 16th September to 15th October 2011:
Selections: 48    Winners: 20        S/R: 41.67%
P/L from a 1000 point bank (using 5% ratchet staking plan): (E/O):

-138.30

:

(SP):

-157.50
Days 61 to 90: 16th October to 14th November 2011
Selections: 55    Winners: 32        S/R: 58.18%
P/L from a 1000 point bank (using 5% ratchet staking plan):

(E/O): +1439.74

:

(SP): +506.50
Overall 17th August to 14th November 2011:
Selections: 153  Winners: 78        S/R: 50.98%
Highest stake during trial:

(E/O): 245.02 points

: 

(SP): 117.53 points

P/L from a 1000 point bank (using 5% ratchet staking plan):

(E/O): +3267.99

:  

(SP): +1242.11
The first period was impressive with a nice profit, followed by a losing period. This second section however was looking decent until the system hit 6 losers in a row and the profit made before the bad run was in excess of 250 points. The big boost came in the last 30 day period with a very impressive profit. The highest stakes listed above could have been placed easily enough on Betfair though whether or not the bookie you choose to use would take them I simply cannot say, that would depend on what sort of limit they have on your own account.
I have also run the results through The Staking Machine with level stakes betting:
Starting Bank of 1000 points and 50 point level stakes
Selections: 153  Winners: 78        S/R: 50.98%
Highest stake during trial:

(E/O): 50 points

: 

(SP): 50 points

P/L from a 1000 point bank (using flat 50 points per bet plan):

(E/O): +1548.50

:  

(SP): +864.50
Longest winning sequence: 7 winners
Longest losing sequence 6 losers
Early Odds given at odds on: 45 (29.41%) 29 won (37.18%)
Sp returned at odds on: 59 (38.56%) 40 won (67.80%)
Best priced Early Odds winner: 19/09/2011 Yensi 4:50 Leicester at 5.00
Best priced SP winner: 08/11/2011 Renard Lingfield 3:40 at 5.00
The daily emails arrived each morning with plenty of time to get the bets on and, as far as I can see, the odds available at the times the emails are sent look to be accurate but in order to get the early odds suggested, you would need to have accounts with most of the popular bookmakers. However, I have not checked for rule four's regarding any non runners which would affect the early odds returns.
Harry, the owner of the system is easy to get on with, any queries or problems I have had have been handled quickly and efficiently. As with any system, there will be losing runs, I am as sure as I can be after only 90 days that Harry has called this right with the recommended staking plan as the figures above show that the 5% Ratchet plan on the EARLY ODDS method has a much better return overall, it just depends on whether or not you can get the bet on with the bookie or if Betfair have similar odds at that time.
My review is only over 90 days. What will happen in the future? I cannot tell but based on my assessment period and if the figures Harry has proofed with the Racing Index are correct, it looks good to me.
Using the Betting Bot:
Personally, I don't use these things myself, I prefer to have my own finances regulated by my own hand (it may be an age thing) then if a mistake is made, I only have myself to blame. However, I have been running the bot on a simulation mode for the last 33 days and on the whole, things have gone smoothly enough although it went through a rough patch approximately two thirds of the way through the trial and hit a low point of 535.45 (bank down by 464.55 points). That would have probably been panic time had I been using real hard-earned cash for me but it did turn around and ended up doubling the bank over the 33 day period ending on 2110.60. These figures were based on bets placed on Betfair 30 seconds before the start time of each race involved.
The betting bots are not free so there will be more expense involved for anyone wanting to go down that route, both suggested bots have free 7 day trials but after that, BetSender Bot would cost you a one off fee of £83.00 while the other bot recommended by those at The BetPlan, Bet Minder Bot would cost you around £30.00 per month (That would be costing you £75.00 per month for the BetPlan Betting Bot method, far too much)! As I say, a betting bot is not my thing and my personal view is, if the email system alone can work, why bother trying to be greedy by making a little more at the risk of your betting bank declining while you are miles away from your pc?
Value for money:
At £45.00 per month (£47.00 for SMS), it is, for me, too much. I understand why the owner of the system charges a higher rate, as to send them out for £15 or £20 per month would draw too many people in and that could seriously affect the sp returns and may also have a negative effect on those who use the betting bot. I am also in the fortunate position of having the time to do my own form study and I enjoy that part as much as cheering a winner home but I can understand those who have a busy day to day schedule and need this sort of service for their betting. I believe, with the past 90 days results that yes, it is value for money but be prepared to have a losing run or two now and then, I am as sure as I can be that Harry has put plenty of time and effort into getting this right and would probably be tempted to join should my free time become less accessible.
All graphs and calculations above were produced using The Staking Machine a piece of staking software sold independently of The Betplan
Overall, I would give this service a 4.5 star rating.





Until my next post,
Inspector Adrian reviewing The BetPlan
Admin note: 17/11/2011
The vendor has told me the subscription for The Betplan is going to increase to £99 per month. This appears to be for other marketing reasons and not because our review has finished with a pass rating. However if you are interested in subscribing it would be a good idea to do so before the price increase (date as yet unknown) - Rich - Review Manager