NFL Betting System Final Review
Written By: admin
|
January 16, 2012
|
Posted In: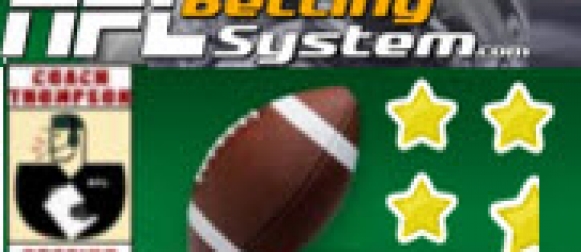 NFL Betting System - Final Review
16th January 2012
Passed:




Inspector DJ - Reviews NFL Betting System
Hello Bloggers,
NFL Betting System is a Baseball (Major League Baseball), Basketball (National Basketball Association), Ice Hockey and American Football (National Football League) selections service.
The website states that the selections for the National Football League are 100 percent successful for the last twenty-seven years!!
The monthly subscription fee is $150.00 per month (approximately £97.00 per month), and additionally the manual to create the selections for the NFL costs $99.99 (approximately £65.00), which will also give a month's free access to the membership area.
Upon receipt of the selections, I visited Oddsportal to collect the odds available. I only used sportsbooks that have an A or B rating at Sportsbook Review (www.sportsbookreview.com).
During the course of the review, some selections of course do not win. However, there is a loss recovery plan to recoup monies lost on those selections that do not go the way expected.
The baseball selections are always advised to be made without the starting pitchers, so that the bet stands regardless, and is advised to be on the Moneyline (a straight win bet) or the Run Line (where one team gives or receives a 1.5 run handicap).
This created an issue as most UK based bookmakers, and for that matter the likes of Pinnacle et al list the pitcher, in my opinion, as this is how they have calculated the "risk" to their potential loss. In baseball, the games effectively commence via the pitcher, some are left handed, some are right, and batsmen are often known to be more effective on one side rather than another.
This meant, for the purpose of the review, that I found a very limited number of sportsbooks where the bets could be placed (Bodog, Coral*, Eurobet*, Gamebooker, Paddy Power* and Partybets). The sportsbooks with a * could receive a bet IF they didn't list the pitcher at the time of the bet being placed.
During the course of the review, bets were advised on three of the American Sports - NBA, NFL and NHL. There was a lockout of the Basketball players, which eventually was resolved, and their season started on Christmas Day.
The results from the individual sports were as follows:
Major League Baseball
Matches played: 46
Wins: 33
Loss: 13
Strike Rate: 71.7%
Series played: 33
Wins: 28
Strike Rate: 84.8%
Profit on staking plan: £269.33
Profit to level stakes: £72.60
National Hockey League
Matches played: 168
Wins: 110
Loss: 58
Strike Rate: 65.5%
Profit on staking plan: £260.24
Profit to level stakes: £28.08
National Football League
Matches played: 40
Wins: 19
Loss: 21
1 void
Strike rate: 47.5%
Profit on staking plan: £198.47
Profit to level stakes: -£26.47
Grand Totals:
Bets placed: 254
Wins: 162
Loss: 92
Strike rate: 63.7%
Advised Staking Plan:
Starting balance: £1000.00.
Profit achieved: £728.04.
Final balance: £1728.04.
Total stakes placed: £15544.92.
Return on investment: 4.7%
Level Stakes:
Starting balance: £1000.00.
Profit achieved: £74.21.
Final balance: £1074.21.
Total stakes placed: £2540.00
Return on investment: 2.9%.
In addition to this, the review ran from 22nd August to 22nd December. The monthly fees would have totalled £388.00 during the period.
Profitability
A return of almost 5% from a system is a fair rate of return, of course, it must be borne in mind that you have the subscription fees to pay from this, which with a £1000 bank would have reduced the rate of return to around half the figure I have shown above. Of course, with a bigger bank, the reduction in profits would be less.
During the course of the review, a level staking plan would need to be of a much greater size than I used to be profitable overall.
Rating: 3.5.
Ease of Use
The selections are provided as part of the monthly subscription fee, so apart from receiving the emails and placing the bets, there is little for the subscriber to do. During the period of the review, the staking advice was changed slightly from the member working out the value of the bets to be placed, to being advised what the bet should be. There is also a members area, should the email not arrive as a back up.
Rating 4.
Risk
The staking plan used by NFL Betting System is where I believe this service has its Achilles heel. Losses are recouped from the next bet or set of bets, and is a progressive staking plan, over three bets. However, should a series of three bets lose, during the course of the review, some of those losses were attempted to be recouped from a future series.
On day 30, two bets were advised with total stakes of £866, from a bank of £1002 from the previous day. One won, the other did not.
On day 31, a further stake of £789 was made from a bank of £906 from the previous day. Thankfully, it won.
The National Football league also saw some fairly hefty bets, as the plan was to win 5 points, 10 points or 20 points in the progression.
There was a bet issued for Arizona to beat San Francisco at Candlestick Park on November 20th (Day 55), where 40 points were advised to be won, at the time of the post, I said that the only bookmaker offering the point spread of +11.0 points was Bet 365. Would you be able to place a bet of £520 to win £400 at Bet 365? I know that I would not be able to, and I suspect I would not be alone.
It could be said that a roller coaster ride is on the cards with the stakes being placed and bets being won, and that you will need to have some courage at times.
Rating 2.
Time Required
The amount of time, depending on the number of bets, would vary from around 10 minutes to half an hour, depending on the number sent. However, I found from experience of the Hockey bets coming through, sometimes they would only be coming into my mailbox at 10.00pm, and occasionally later than that, so the early retirees amongst you may have to wait a little longer to go to bed. However, the American Football bets were generally issued on a Thursday.
Rating 3.
Overall rating 3.5.
Passed:




Overall, NFL Betting System made a profit. However, you will need to be comfortable with a progressive type staking plan, and the roller coaster nature that can happen with stakes that are made to recoup previous losses. Although with a larger bank the profits would have been higher in value, the up and down side to the bank would still be there. The service, at £100.00 per month, is more expensive than a great number on the market.
Until the next time,
Inspector DJ
[Click here to see NFL Betting System.....]
Inspector DJ-Reviews NFL Betting System